Create Curb Appeal For Your Home
If life is all about the little things, then the stroll to your front door has to be up there with the best of them.
It's the thing to settle your stress after a hard day at the office, the moment that fills you with comfort after a nice holiday away, and the first impressions guests will experience when they come to your humble abode.
However, it is also one of those areas of the home that gets knocked down the priority list for whatever reasons.
So, in order to help you improve your home's curb appeal and your pride levels, we have come up with some simple but gorgeous home improvements you can make without too much hassle ruining the experience.
1. Take Photographs
Before you do anything, pull your smartphone from your pocket, open the camera app and start snapping.
Take photographs of your front garden and pictures of your home, as well as more enlightening snaps of your front door, your pathway and your landscaping.
That way you will see just how much your little tweaks have improved your home.
2. Show Them In
Every home deserves to have a garden path that leads you from the street to your front door; a path that is as gorgeous as it is clear.
The only rule you really need to follow is the three to four feet wide rule. This is so that two people can walk side by side up to your front door.
As for that, this path is your oyster. Just create as much interest as you can and you'll be onto a winner.
3. Make Your Door Wow
When looking from the street, the front door is the focal point of every home, which is exactly why you should give it a bit of wow, and the best way to achieve this is with paint.
Of course, it is worth thinking about what colour will go best with your home's styling, but something bright and bold will help revamp any tired-looking entry.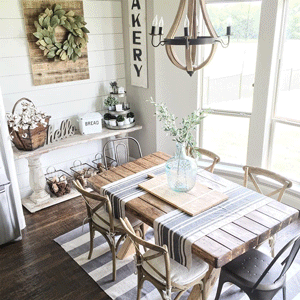 4. Define Your Borders
Nothing can give you that "we're home" feeling quite as much as a gate to walk through, which is why you should give the edge of your property a little dash of exclusivity; that something to separate you from the rest of the world.
The white picket fence is the obvious call, and with some extra details from Atlanta Post Caps you can really lift this up a notch.
But you could also slot a gate into a well-kept hedge and get the same desirable result.
5. Lots Of Symmetry
One of the most effective ways to improve an entryway is to embrace symmetry as much as you can, which is easily done.
Add an old-fashioned lantern either side of your front door, with a container herb garden or potted plant either side as well.
Add a couple of nice little benches to your porch and have lighting that lines your path from street to door.
There are so many ways you can create a mirrored look, and each one will lift your exterior styling.
I hope these ideas and tips have inspired you to create a welcoming and appealing look to your front door and home.
Thanks for spending a few minutes today here at the Farmhouse. See you soon!