Many people who like to follow the latest fashions will attempt to create a farmhouse theme at home this year.
That is the case, regardless of whether they live in a rented flat or a cottage in the countryside.
It's an attractive aesthetic, and one that can help any home to become a little more comfortable.
Today, this post will discuss all the advantages of adding a breakfast bar to the room.
Lots of folks overlook those furniture items because they are often large and bulky.
Still, no farmhouse kitchen design is complete without having one in the middle of the cooking area.
If any readers aren't convinced yet, they should have a better understanding by the time they reach the bottom of this page.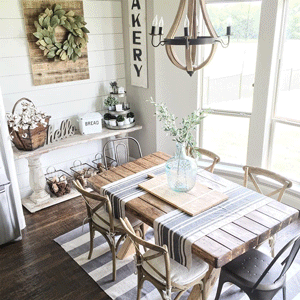 Breakfast bars can add decoration
There are many ways in which people can add some decor to their breakfast bars to make them look appealing.
Some folks like to hang fairy lights around the unit to make it stand out.
Others might want to paint panels of the bottom section in different colors to get the required aesthetic.
The possibilities are endless and only limited by the individual's imagination.
Also, it's important to note that breakfast bars themselves could help to improve the look of any farmhouse kitchen theme if people select the right designs.
Lots of homeowners place light fittings above their breakfast bars to illuminate the construct and brighten the space.
For the best deals and some more inspiration, readers should:
Search online for farmhouse breakfast bar images

Visit the websites of specialist kitchen retailers
Breakfast bars provide an eating surface
People tend to worry that their kitchens aren't big enough to house a breakfast bar.
However, most of those folks also have dining tables in the space. Just remember there is no need for both solutions because the breakfast bar will provide a perfect surface for eating meals.
Homeowners just need to make sure they purchase some stylish stools to place around the island.
As an alternative to traditional dining tables, breakfast bars are ideal for many reasons.
Firstly, it's often easier to clean the surface because the countertop is likely to use marble or something similar.
Most tables use wood, and that means it's harder to give them a quick wipe down.
If individuals have a couple of kids, there is no need to worry. Most breakfast bars are more than large enough for the entire family.
Breakfast bars come in endless shapes and sizes
Those who own three or four bedroom houses should have a big enough kitchen for a breakfast bar.
However, anyone who's recently invested in a flat or new launch condo might struggle for space.
With that in mind, it's excellent to know that those products come in a range of different shapes and sizes.
Indeed, there are even some specialists out there who will build custom units to order.
So, everyone can get a breakfast bar to add to their farmhouse kitchen design.
It's just that some folks might have to take lots of measurements and spend a little more cash than others.
Some breakfast bars come with:
Curved bases

Circular countertops

L-shaped corner designs
Breakfast bars use a range of different materials
No matter how people chose to approach the farmhouse theme in their kitchens, it's possible to find a breakfast bar that will add to the aesthetic.
That is because the products use a broad range of different materials.
Some people might benefit from getting an oak or pine solution to ensure it fits in with the rest of the room.
Others might consider putting their money in something with a metal base.
Just take the time to browse some of the most reputable retail sites and assess the market.
As mentioned a moment ago, plenty of companies will design the construct from scratch if individuals want something unique.
The most important decision relates to the choice of countertop.
Popular materials include:
Marble

Slate

Quartz

Butcher block

Recycled materials
Breakfast bars provide lots of storage space
It's impossible to ignore the fact that breakfast bars come with a lot of storage space in most instances.
Most products have cupboards underneath in which people can store pots, pans, and other essential kitchen items.
Some designs even come with a rack for the ceiling from which homeowners can hang some other utensils.
So, don't make the mistake of thinking there isn't enough space in the kitchen for an island of that nature.
It's possible to get rid of many of the other cupboards if worst comes to worst. In most situations, a decent breakfast bar could double the volume of space in which people can keep their canned goods, tools, and snacks.
Breakfast bars are easy to construct
Unless people choose to get something entirely original, most breakfast bars will arrive flat packed.
That's excellent news because anyone with some basic tools can put the construct together without professional assistance.
The job should take no longer than one day in most instances, and homeowners just need to read the instructions.
Of course, anyone who doesn't want to do that could pay an expert to come to their home.
Most of the top kitchen sellers will offer than service for an extra fee.
So, it's always worth asking at the time of purchase.
People who choose to undertake that task alone just need to:
Remove everything else from the kitchen first

Follow the instructions to the letter

Ask a family member to assist with the heavy lifting
Those who've read all the information in this article should now understand all the benefits of getting a breakfast bar for their farmhouse design scheme.
For additional information in regard to elements of a farmhouse kitchen, check out this article on choosing a kitchen sink.
Indeed, it's difficult to find any images online of kitchens in that theme without an island in the middle of the room.
That is because traditional farmhouses have made use of breakfast bars for years.
So, it's about time people who want to replicate that aesthetic jump on the bandwagon.
Start looking for the perfect breakfast bar today, and fit it as soon as possible!