Jazz Up Your Home Decor With Wood Number Tags
A fun way to add interest to your home decor is with unique items. This DIY I am sharing today does just that. These easy to make, round wooden number tags are perfect to use on items for decoration or organizing
So let's jump right in and I will show you just how easy it is.
Supplies you will need:
Tools you will need:
Paintbrush
Dremel or Drill
1/8″ drill bit
Step 1:
Drill holes at the top of each wood piece. Ladies if you do not have a drill or Dremel you really should consider getting a small one.
A Dremel has different attachments that you can also sand, drill, and file items. Its a do it all tool. It is easy to hold and not as heavy and cumbersome as a full-size drill.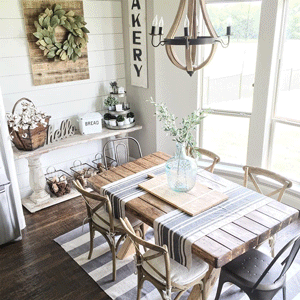 I used a small 1/8 drill bit the size I needed so the twine hanger would thread through the hole for hanging.
Step 2:
I painted the wood disc on each side and allow to dry. I applied two coats
Step 3:
Make sure the wood is completely dry before drawing the numbers.
I did not have any transfer paper so I did it the old fashion way….which is to use a lead pencil and blacken the back side of the numbers.
Step 4:
Center the paper number on the wood and trace around the number very carefully make sure to not let the number sheet move.
Trace each number on to the wood pieces.
Looking good. Now grab your paintbrush.
Step 5:
Paint each number onto the wood. I used black acrylic paint.
Printable Numbers
Enjoy! So much fun.
So many possibilities for these cute number tags. Baskets, boxes, doors. Use as decor accents and also to organize.
For a printable number sheet that fits the wood 3″ disc go here. Numbers for tags 1-6 farmhouse 40.com Numbers for tags 7-10 farmhouse 40.com
Don't forget to pin this to your Pinterest Decor Board. You can follow me on Pinterest and see all the great things I am finding to pin. I hope to see you there.
Want to receive the latest and greatest DIY projects.
Subscribe (at the top or side box) and you will receive FREEBIES & DIY Ideas straight to your inbox. So Easy!!!
Thanks for coming to the Farmhouse today. See you soon.