Tips for creating a Rustic Modern Kitchen
In a perfect world, everyone would be able to enjoy their morning coffee from a copper kettle atop a log filled wood stove, surrounded by the warming glow of aged wooden cabinets before stepping out into a fir tree ringed panorama, but shy of a relocation and / or lottery win, this may not be achievable for many of us.
An injection of that rustic country style kitchen, however, can be created in virtually any environment with a little know how and the right materials.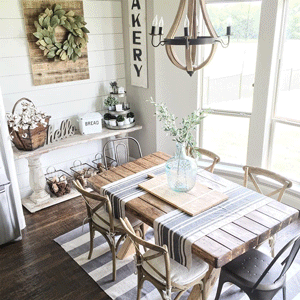 Reclaimed wood feature walls
Nothing goes further to creating a rustic, log cabin feel than a feature wall clad in unique reclaimed wood.
Reclaimed wood is a great choice for a number of reasons.
Firstly, its unparalleled in its ability to create the natural, lived-in country aesthetic that can only come from aged wood. It's incredibly versatile, but also easy to install with peel and stick wood planks.
For the environmentally conscious, it's obviously more sustainable than newly processed wood as well as having a whole lot more character.



Stone elements
Maybe it's a psychological callback to our caveman days but there's something sublimely comforting about the use of natural materials in the kitchen.
While wood is a no-brainer, fewer people are as quick to recognize the benefits of stone in a rustic kitchen.
The beauty of stone is that you can embrace it as much or as little as you like without it calling attention to itself.
Nothing screams rustic like natural stone kitchen flooring but if that's a little extreme for you, simply lending a stone mantlepiece to your kitchen hearth can add tremendously to the effect.
Even adding natural elements to kitchen surfaces like quartz, granite and marble can make a huge contribution to your rustic design.
Don't be afraid to juxtapose
Not everything in your kitchen has to conform to the rustic aesthetic,
indeed it can aid the overall look enormously if you can create a contrast by adding a touch of the modern.
Combine distressed, rustic accessories with modern clean lines and neutrally colored walls
Create a contrast that makes the rustic elements of the design concept pop
This design concept will give your kitchen a cleaner and more modern feel.
Accessorize
You'd be astonished at how much the right accessories can make or break a room's look.
If your budget and / or resources are limited,
or your landlord isn't keen on the prospect of you making alterations,
you can achieve a lot with a little when you make accessorizing your priority.
So long as the rest of your decor is fairly neutral the right accessories can virtually create your look for you.
You can go as fun and quirky as you like with woolen textiles twig-effect furnishings
Beautiful Navajo rugs are another safe accessory with the knowledge that anything that isn't working can be removed or altered quickly and easily.
Get distressed
A rustic kitchen in which all of the walls and surfaces are immaculate and shiny… Just ain't a rustic kitchen.
A good kitchen should be a hub of activity in which stuff gets dropped, spilled, cracked, chipped and scratched.
Who wants to cook and eat in a spotless, sterile environment?
Therefore, primitive painted surfaces and accessories are instrumental in creating a warm, easy and relaxed atmosphere for your kitchen.
If you can find time worn, aged painted furniture and accessories in flea markets or through a local architectural salvage company, so much the better.
Use dark woods with hints of red
Again, maybe this is another subconscious remnant from our caveman days, but in a room characterised by cooking, the use of rich, warm woods can really enhance the effect of the oven, hob and stove.
Darker, red tinted woods on the floors, ceilings or in your cabinets and furniture go a long way to giving your kitchen a sense of warmth, vibrancy and coziness that seems to radiate warmth and comfort.