Hi Friends
So glad you stopped by today for this month's Back To Basic Series hosted by 2 Bees In A Pod and The Crowned Goat.
This month we are talking about How To Create A Mood Board
You can find all the previous Back To Basics Series projects here:
Fall Picnic and Tailgating Ideas
How to Create a Simple Flower Arrangement
Appetizers and Treats at the Ready Recipes
*Disclosure: This post may contain affiliate links. For my full disclosure policy click here.
Are you planning on completely redecorating a room your home?
If you are like me you no doubt have dozens (maybe even hundreds!) of ideas flying around your head.
How are you going to keep track of everything?
So many things to think about – furniture, the colors, walls, flooring, lighting, and accessories.
This is where the mood board comes in handy.
A mood board is a way to collect all your thoughts, ideas and inspiration all in one place.
Forming a clear design concept will aid you in building a coherent design plan for your room.
Here are a few of my tips on how to create a mood board that will assist you in getting the room you want
Start by Finding Some Inspiration
These days inspiration can be found not only in the real world but also online.
Your mood board can be digital or physical or both. It's up to whatever you feel more comfortable working with
Pinterest is, of course, one of the big sites for inspiration, but you can find suggestions anywhere online.
Dedicated home decor website and blogs are a fabulous way to get detailed decor information and inspiration
You can also download mood board apps to your iPad or tablet.
I am using PicMonkey to create my mood board.
Find the furniture, rug, accessories and save those photos to your computer.
This is the first step to have the items to add to your mood board
Your mood board is the place to collect your visual ideas of what you want your room to look like.
I am planning out my screened in patio porch that I want to decorate now that the weather is warming up.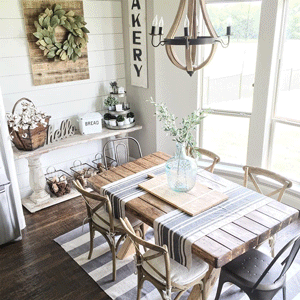 How to design your mood board
To design a mood board with PicMonkey
Here are the steps:
Go to PicMonkey website.
Click on design tab – This will bring up a screen with a blank canvas.
Upload your photos – click on the butterfly symbol called overlays.
Click on Add Your Own > My Computer
Upload your photos of your items.
Once uploaded arrange onto your canvas.
If you right-click on a photo you can make it go to the back or bring forward.
This helps when placing your items next to each other.
Include color or wallpaper samples, and photos of furniture and accessories that you like
Collect a few photos of inspirational rooms you like so that you can refer back to them if you get stuck.
Example pictures of interiors will help you decide on a design style
Arrange the mood board with you uploaded photos as you would your room, and then take in everything in its totality, removing or adding different items as you see fit.
Size your board. I made my board 800 x 600.
Export to your computer.
Not only does a mood board aid you in confirming or rejecting ideas, it's also a great way to come up with new, unexpected ones.
Find Inspiration?
Nowadays, finding inspiration is a lot easier than in the past.
Books, magazines, websites, and samples are all tried and tested methods
Look for inspiration all around you – in nature, in art, in the interiors of a restaurant or coffee shop you frequent
If you are out and see something you like, take a picture of it and pin it to your mood board.
I hope this has given you inspiration and tips on how to make a mood board for your next decorating project.

Now its time to check out all the other mood board ideas. Links are below.
Thanks for coming by. See you soon.