I think a lovely Topiary is eye-catching and goes with every home decor style. Last week I was out shopping and one of the items on my list was a Topiary or two. Have you priced Topiaries lately? They are pricey. Sorry to say they were not within my Topiary budget. HA!
So I did what any DIY'er would do…..I decided to make some myself.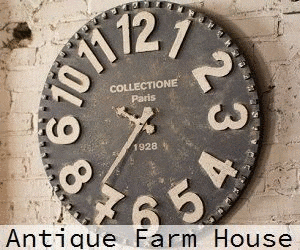 How To Video to make your own Topiary
Supplies
Sticks for the topiary, FREE from my yard.
Once I gathered my stems/sticks, I was ready to get started.
Terra Cotta – Pots 10″ (any pot you like)
Paintbrush
Topiary balls x 2
Sticks
Foam (fit in the bottom of pots)
Moss to cover the top of pot around the topiary
Hot glue gun
Optional Painting
I painted my terra cotta pots, but you can leave yours as is if you would like.
Cut a piece of foam to fit the pot. The foam needs to be snug in the pot.
Prepping The Boxwood Ball
The boxwood top that I bought was a mesh top ball so I needed to add something so the top of the stem sticks would go through the bottom spot but also stop at the top.
I created a round ball with a piece of foam, tape and hot glue.
It worked well to secure the boxwood ball top to the stem.
Insert the stick or sticks in the center of the foam.
If it doesn't seem secure just add a little hot glue around the bottom of the sticks and the foam.
Now you are ready to add moss to the top of the pot to cover the foam.
Here is the type of moss that I used for this project
There you have it. Pretty easy, right? xxx

Conclusion
Adding Topiaries to your decor is a great way to refresh your home. I hope this has inspired you to make a few Topiaries for yourself Do you think this project seems easy? I would love to hear your thoughts in the comment section below.
Thanks for spending a little time here at the Farmhouse. See you soon!